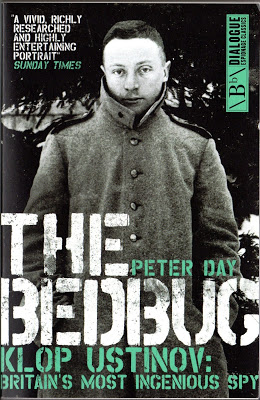 I wrote here [my former Portuguese blog on the secret war in Portugal, 1939-1945] about the biography of Peter Ustinov's father, Ivan [Joan, alias "Klop"], written by Peter Day.
Compared with what I knew from other sources, the author goes further in claiming that "Klop" [codenamed U-35 by MI5] was sent to Lisbon – where he was received, on February 1944, by Desmond ["Derry"] Bristow [MI6] – to meet not some German circles conspiring to assassinate Adolph Hitler, but specifically Otto John.
John was a Luftahansa lawyer in Madrid who was later exfiltrated to Gibraltar due to the combined efforts of PVDE's – Portuguese secret police – and Rita Winsor [MI6 in Lisbon, posing as a typist in the British Embassy].
Moreover, Peter Day emphasizes that Ustinov was acting under the authority of Harold Russel "Kim" Philby [Section V of MI6, Portuguese desk], a long-term Soviet mole in the British intelligence community. That fact I knew already from two different sources: Rufina, Philby's wife after he defected to the Soviet Union, pursuant to her book Kim Philby Private Life, published in 1999; and Genrikh Borovik, a Tass journalist with KGB connections, according to his book The Philby Files, published in 1994.
The author surmises that the mission of "Klop" served the strategic interests of the URSS concerning the non-support of those who intended to kill Adolf Hitler. The coup failed and Hitler's life was saved. And the war continued…