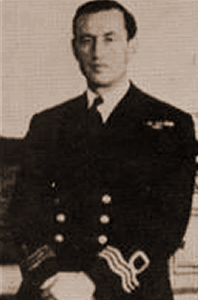 Ian Lancaster Fleming, the creator of 007, worked as a Naval Intelligence Officer at the NID, the Naval Department directed by Admiral John Henry Godfrey.
In 1941, both were in Lisbon, travelling to America. Ian Fleming was here also on some other occasions. He was in charge of Operation Goldeneye, NID's attempt to monitor Spain to prevent Franco from aligning with the Axis
Issued on 10 December 1942, this document honours Commander (Sp) R.N.V.R. Fleming for the work he has done in the Admiralty, emphasizing that his «zeal, ability, and judgment are altogether exceptional».
I have been recently asked about its origin but until now I have not able to find the source.